Also Hero Forge mini of eventual humanoid form!
Garou Hero Forge
Been looking at more Werewolf the Apocalypse art because they are based off of a Garou.
Though their main form is "Crinos" or the "War form" (typical big bipedal wolf), I love that they probably have a "Hispo" (wolf the size of a bus) form, as well as a Homid (humanoid) and feral form. Woof woof!
From here, if Jagd had a proper grooming:
http://uzlolzu.tumblr.com/post/72969592627/my-garou-o-tove-glass-walker-ragabash-shes
HEY LOOK MORE PICS BECAUSE WEREWOLVES ARE AWESOME
From:
http://xkosaburo.deviantart.com/art/Black-Werewolf-362570150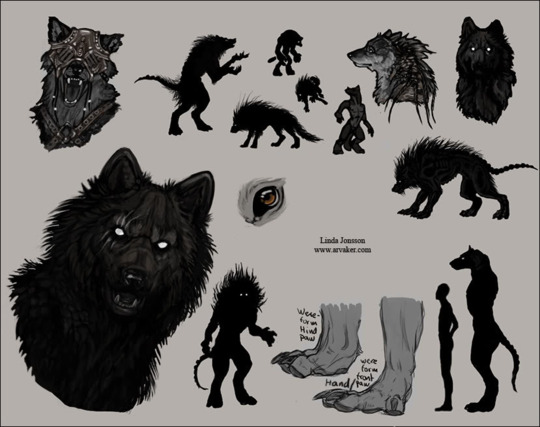 from:
https://p.gr-assets.com/540x540/fit/hostedimages/1379776826/360933.jpg
This is the Pintrest "Moodboard" that I set up for the woofer...
clicky here!
Jagd is a greying, charcoal-furred creature that resembles a werewolf at a glance; inspection beyond a cursory look reveals that they are much less feral in their carriage if not their appearance, and that their physical and mental states are unaffected by the moon's phase. They are missing their left eye and have replaced it with an inert Ioun stone, which is typically obscured beneath an eye-patch. Their right ear is a tattered vestige, and their visage is marred and scarred with a past that bespeaks little in the way of kindness granted to them. In spite of their varied collection of "scartography", their demeanor is pleasant and polite, if a little shy. They move about freely on all fours, or standing upright, depending on which is more suitable for the situation.
Around town, they wear an exquisitely-tailored, high-necked tunic cut from dark blue cloth, which is cinched by a chocolate brown leather kidney belt with brass buckles and rivets. The collar and short sleeves of the fabric garment are accented with bronze trim, and their simple black breeches are hemmed to match. The limbs and body that can be glimpsed beneath show further signs of scarring and long-since healed maimings, including a particularly nasty knot of old wounds at the base of their neck.
In combat, they wear a gambeson of similar cloth and cut beneath a brushed bronze suit of half-plate. Their left arm is left unarmoured for mobility's sake, and they wear a pair of leather greaves that appear to be magical. Their lower body is lightly-armoured for the sake of speed.
Last edited by Jagd/Liadin on Sun Apr 24, 2016 8:40 am; edited 1 time in total (Reason for editing : ((added more info for clarity)))


Similar topics
---
Permissions in this forum:
You
cannot
reply to topics in this forum